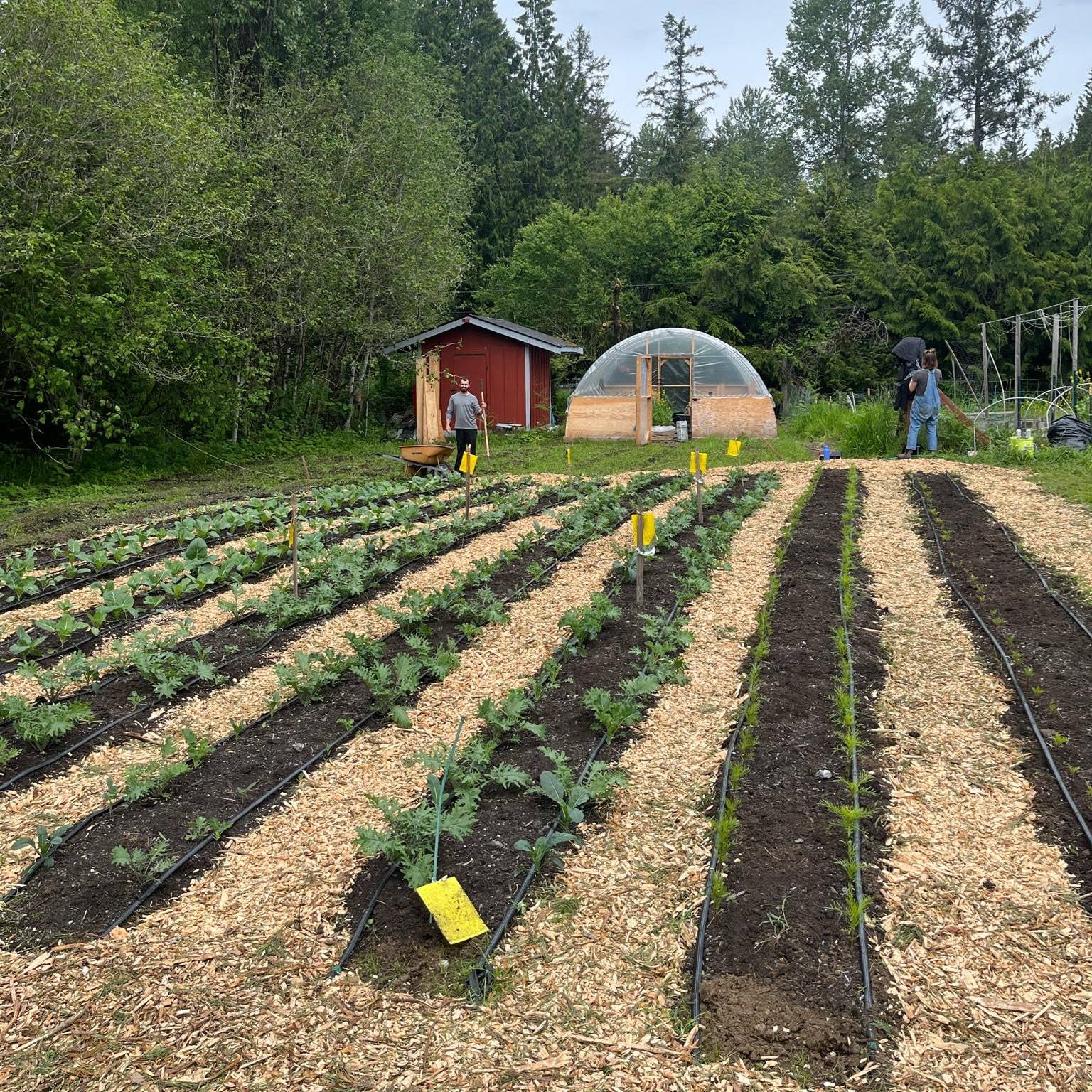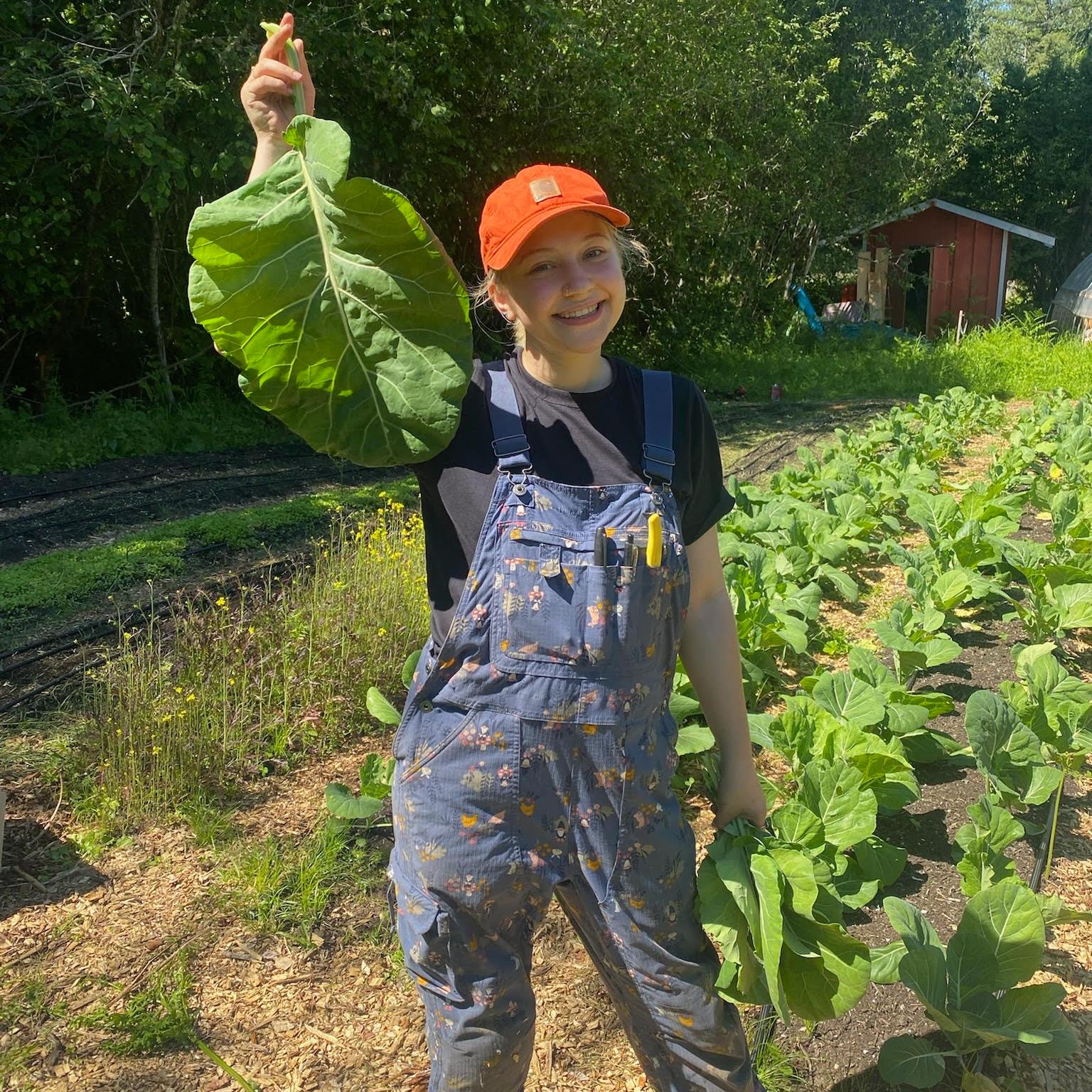 Goldilocks Farm
Address: 19612 NE 133rd St Woodinville, WA, 98077
Phone: 206-651-4589
About Us
Goldilocks Farm is a small 1/4 acre suburban farm located in Woodinville, WA on unceded Duwamish land. We specialize in salad and braising greens, specialty herbs, and edible flowers.

The Farmers:

Rachel is a lover of plants and is passionate about ecological sustainability and environmental education. Her experience in the non-profit world and working to start a food pantry for low-income students reinforced her belief that everyone deserves access to fresh food grown ethically. When Rachel met Mike in 2020, she was in school for Environmental Studies and they connected over their shared appreciation for the natural world. Rachel is also a lifelong fiber artist. When she's not out tending to the veggies, you can find her knitting, crocheting, weaving, or sewing using reclaimed materials and natural fibers. She dreams of one day having an alpaca on the farm and experimenting with growing plants for natural dyeing. Her favorite thing to grow is edible flowers.

Surrounded by corn fields as a child, Mike has always loved wide open spaces. Mike's interest in farming brought him to a 1-acre no-till organic farm in Everett, WA in 2019. After this, he spent time at a farm-brand tech startup in Seattle, but realized his passion was working in the field itself. He then joined Harvest Pierce County as a Gleaning Specialist through AmeriCorps in 2020. There he worked to collect leftover produce from farms and homes to supply the community with fresh food. During this time, Mike enrolled in Viva Farms' Practicum in Sustainable Agriculture in 2021. There, he learned the ins and outs of operating a small farm. The practicum connected him with an opportunity to lease land in Woodinville, and Goldilocks Farm became a reality.
Practices
Shortly after we decided we wanted to start a small farm, we were given the opportunity to convert a beautiful piece of property owned by a wonderful family in the area into our dream farm. They offered us about half an acre on their partially forested 15-acre property with a creek that runs through it. Starting in October 2021, we worked to clear large patches of invasive blackberries, tilled the soil once, and amended the soil with lots of compost. By February 2022, we had constructed a greenhouse and were ready to start seeds for our first farm season.

The plot is active with all kinds of wildlife. We are lucky to regularly encounter deer, owls, rabbits, and other small critters. This also means we have to get creative with pest management, and strive to balance our defensive measures with the truth that the forest has many mouths to feed. We use integrated pest management (IPM), which means we use no pesticides to keep the critters away. We use fencing to keep the large animals away, and certain herbs and flowers like marigolds and thyme to keep the small ones out. We also use only certified organic amendments in our soil to help with insect management.

Almost all farm tasks are done by hand with basic tools. We are learning to listen to the soil and respond to the plants for maximum yield. Our farm plan relies on crop rotation designed to retain the integrity of the land. The same beds where we planted leafy greens last season will have legumes this season to keep nitrogen levels in the soil stable. We closely monitor our compost mix and have started making our own with extra plant matter from the farm. We aim to source things like wood chips and hay locally and in turn supply our community with the freshest local produce available.

We are striving to be a single-till, sustainable practice operation. We tilled the soil once in order to break up the massive amounts of blackberry root balls in the ground. After we finished the tilling process, we sectioned off where our beds would be and have not touched the soil since. We are not certified organic due to our small size, but we strive to use the best possible practices and amendments. We're happy to provide a list of all products we use on our farm in both our propagation trays in the greenhouse and in our farm beds.