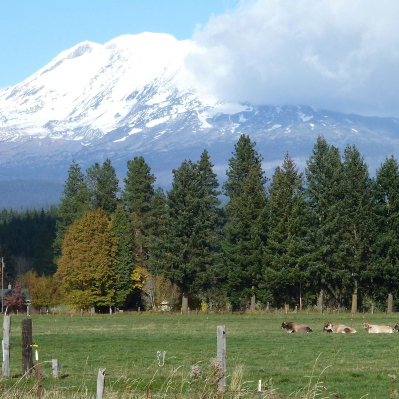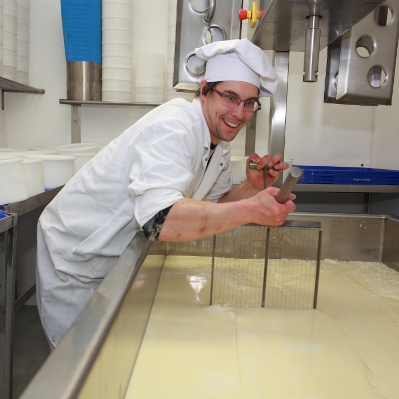 Cascadia Creamery
Contact: Marci Schuman
Address: PO Box 23 Trout Lake, WA, 98650
About Us
John and Marci Shuman made their move to Trout Lake in 2005. The natural landscape, temperate weather and the rich volcanic soil of Trout Lake were the perfect ingredients for an idea that began forming in their minds. Historically, Trout Lake had been home to artisan cheesemakers, but the art nearly died out.

John found the history of cheesemaking so fascinating and the abundance of the area so inspirational he was compelled to revive this lost art and Cascadia Creamery was born. Once again, Trout Lake became home to artisan, small-batch cheese-making. In keeping with tradition, Cascadia Creamery ages it's raw milk cheeses in a lava tube mountain cave at the base of Mt. Adams.

Interestingly, in a study published in September of 1944, the US government found that Trout Lake had the only historic lava cave in North America with the same temperature and humidity conditions as the world-renowned "Roquefort Caves" of France. John found that the same elements for fine cheese making that were present over 125 years ago are still present today in Trout Lake – heritage dairy cows, natural landscape, the temperate weather, the rich volcanic soil, and the lava tube caves. They all combine perfectly to lend the most unique of terrior (taste of place) to Cascadia Creamery cheese.

As the head cheese maker and affineur, John brings his skill to bear in creating the raw milk cheese masterpieces. In early 2012 he brought Dan Casati into the Cascadia Creamery family to be his assistant cheese maker. Making Organic CheeseA Wisconsin native, Dan was born and raised in cheese country but the natural beauty of the Cascade Mountains was what originally called Dan to Trout Lake. He attended the Vermont Institute for Artisan Cheese and learned the nuances of the trade working closely with John.

Today Rowan, John and Marci's young son, is being groomed to carry on the tradition and become a fromagere (cheese maker) himself. He's quite the opinionated cheese taster and he also loves to regularly hose down the creamery (and the cheesemakers).
Practices
At Cascadia Creamery, we strive to go "beyond organic". We put careful, quiet, and considered thought into every aspect of our cheese making. Our raw milk comes from a fourth generation family farm that was one of the first dairies in the state of Washington to be certified organic by Oregon Tilth (one of the most rigorous certifiers of organic farms in the nation.) As a result, the farm's milk has been antibiotic-free and certified-organic for decades. Organic Milk CowIn addition, not only do we feed a diet of mostly grass resulting better quality raw milk but we also use only heritage Jersey, Dutch Belted, and Friesian cows with A2 genetics. These heritage breeds have been used by dairy farmers for centuries not only because of the creamy, rich, high-protein milk they produce but also because these breeds are more robust and live longer, healthier lives than other breeds. These cows have nearly twice the life expectancy as most conventional dairy cows as a result of selective breeding and excellent care. The fourth generation family dairy where we source our milk practices exceptionally humane animal husbandry skills and has a strong ethical belief in being a true steward of the land. They care deeply for their cows and give focused attention to the soil in the fields.

Volcanic soil is virgin soil, the product of new earth formed from ancient lava flows. Lava flow develops into some of the richest agricultural land on earth because it contains ancient minerals from deep inside the earth's crust. With substantial amounts of potassium, phosphorous, and sodium, lava flow is ideal for promoting healthy pasture growth.Organic Dairy Farm
The cows that produce our raw milk live at a local, certified organic dairy farm and they spend their days grazing lush meadows fertilized by the volcanic soils of Mt. Adams. The happy girls are well-nourished from the grasses living on this ancient, mineral-rich soil, and of course healthy well-fed cows produce the highest quality raw milk. They also drink water from the pristine glacial streams and aquifers generously supplied by nearby Mt. Adams and the Gifford Pinchot National Forest.

On top of all this environmental purity and abundance, our dairy is certified organic by the Oregon Tilth. They never use pesticides on the pastures nor do they give the cows hormones or antibiotics. Like a fine wine where soil and environment come together to determine the wine's unique flavor and bouquet, so also are our cheeses. Each one has been kissed by the elements of heritage breeding, volcanic soil, and mountain water, creating flavor bouquets that make for some of the highest quality artisan cheeses ever created. Once you taste our raw, volcanic, cave-aged cheese, we think you'll agree.