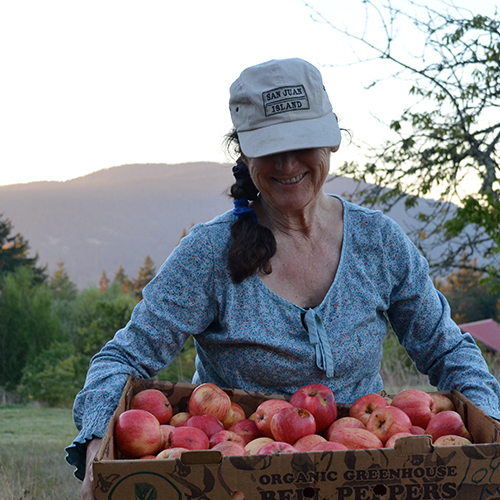 Once In A Blue Moon Farm
Address: 412 Eastman Rd. Eastsound, WA, 98245
Email Address: info@sleepingsea.com
About Us
In 1997 Shana BOUGHT THE FARM. Literally. She was not a farmer by trade nor a farmer's daughter.

The farm is ever changing, and a far cry from what it was when we started pulling thistles and scotch broom, cursing the soil into the summer nights. We've always sought to be just a little bit different and always ourselves. Three generations of our family are involved in the daily operations. We each have our story as you do yours and in typical fashion there is nothing typical to it. Come and visit!

Our farm estate has a rich history dating back to the 1880's and some of the first homesteaders on Orcas Island.
Practices
A reverence for our natural landscape and environmental sensitivities drive the way we think and operate at Once in a Blue Moon Farm. Sustainability and living with nature is our way of life. We are intricately bonded to our water, our soil, our air, our future, our health, and our economy. We hope the farm stay will help inspire or compliment your efforts in rethinking the way we all live. Interested in finding out more? It is one of our passions so please ask away!